STOCKTON DIAMOND GRADE SEPARATION PROJECT
Today, the tracks of two major railroads intersect at-grade in the City of Stockton at what is called the Stockton Diamond. This rail intersection, located just south of Downtown Stockton near Aurora Street South and East Scotts Avenue, is the busiest, most congested rail bottleneck in California.
WHAT WE'RE TACKLING
The rail backup at the Stockton Diamond creates operational inefficiencies for goods movement both locally within the Central Valley and across the national railway network.
It also impacts the frequency, reliability and potential expansion opportunity of passenger rail services that operate on the same rail lines.
Currently, passenger service is limited through this corridor due to the existing congestion caused by the at-grade crossing. The train backups also cause local delays at crossings and potential vehicle/rail/bike and pedestrian conflicts.
HERE'S HOW WE RESOLVE IT
The proposed project will grade separate the principal lines of BNSF Railway (BNSF) and Union Pacific Railroad (UP) at the Stockton Diamond creating uninterrupted flow of rail traffic through the crossing.
By grade separating the two rail lines, the project will:

EFFICIENCY
Enhance efficiency, velocity and throughput
Reduce greenhouse gas emissions caused by idling locomotive
Improve freight rail movement through the Central Valley, to the Port of Stockton for vital import and export of goods, and across the national rail network

MOBILITY
Improve mobility at key railway/roadway crossings for motorists, bicyclists and pedestrians
Reduce freight and passenger rail delays and associated congestion

PERFORMANCE
Improve on-time performance by reducing travel delays
Facilitate passenger rail service expansion for Altamont Corridor Express (ACE) and Amtrak San Joaquins
CONCEPT 1: PROPOSED UP FLYOVER BRIDGE
SJRRC has been working closely with BNSF, UP and project partners to identify feasible project concepts that will separate the two rail lines by elevating one over the other at the Stockton Diamond. A number of scenarios have been reviewed and eliminated based on feasibility and potential impacts to the surrounding community. Based on preliminary scenario evaluation and railroad agreement as the owner/operators of the rail lines, SJRRC is moving forward with environmental review and analysis of a preferred flyover concept with multiple design variations.
Concept 1 places the UP Fresno Subdivision on a flyover above the BNSF Stockton Subdivision on a new alignment to the east of the existing mainline tracks. Several design variations will be considered and assessed during the environmental phase to address connections to the UP Stockton rail yard and mainline UP and BNSF tracks, avoid existing structures such as State Route 4 as well as minimize impacts to local roadways.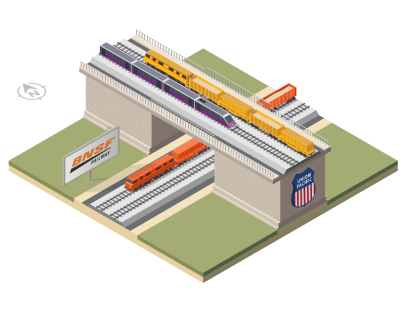 CONCEPT 1: PROPOSED UP FLYOVER BRIDGE
Concept 1 impacts multiple east-west local road crossings as a result of the proposed track alignment shift and rail operational improvements. SJRRC, the City of Stockton, and the railroads are currently coordinating on proposed modifications at each railway/roadway crossing which may include road closures at key locations. Should road closures occur, motorists, bicyclists and pedestrians affected by potential road modifications will be diverted to adjacent crossings where improvements will be made to facilitate enhanced safety and multimodal access. STIMULATE MOBILITY
Improve regional passenger and freight rail efficiency and travel reliability by reducing conflicting train movements on shared-use rail corridors

ENHANCE SAFETY
Improve access and mobility for City of Stockton residents through crossing closures, as well as bike, pedestrian, and roadway improvements at multiple roadway/railway grade crossings

ECONOMIC VITALITY
Reduced delays and fuel consumption; Increased goods movement throughput and train velocity resulting in cost savings for transportation
INSPIRE CONNECTIONS
Support faster, more reliable passenger rail travel options and expansion of service linking travelers to friends and family gatherings, employment and key destinations throughout Northern California
SUSTAINABILITY
Improve air quality through reduction of greenhouse gas caused by trains and vehicles who sit idling due to congestion and delays at the existing Stockton Diamond.
The proposed project is currently estimated to cost approximately $237 million (in 2021 dollars). Potential project costs will be confirmed through the design process being undertaken by SJRRC for the project. SJRRC is currently working to secure state and federal funding to complete the project, including:

LOCAL

STATE
$100 million in Trade Corridor Enhancement Program funding through California's Senate Bill (SB) 1 (awarded Dec. 2020). SJRRC will use already secured SB 132 and Interregional Transportation Improvement Program funding to match other project funds.

FEDERAL
$20 million Federal grant from the Better Utilizing Investments to Leverage Development (BUILD) Transportation Discretionary Grants program (awarded Sept. 2020)
THE TIMELINE
Completed
Active
Future
* Public Engagement Opportunity
Project Phases
2020
2021
2022
2023
2024
2025
2026
2027
Environmental Studies
Spring 2020 – Summer 2022
NOP/Scoping * — Summer 2020
Environmental Studies & Analysis — Spring 2020 — Spring 2022
Draft Environmental Impact Report (EIR) * — Spring 2021
Final EIR & SJRRC Approval — Summer 2021
Draft Environmental Assessment — Spring 2022
Draft EA Public Comment Period * — March 28 – April 27, 2022
Final EA & CHSRA Approval — Summer 2022
Final Design and Right-of-Way
Summer 2021 – Fall 2023
Engineering Studies — Summer 2021 — Spring 2023
Utility Coordination & Relocation — Winter 2021 — Winter 2023
Environmental Permitting — Spring 2022 — Spring 2023
Final Design Plans (30% Completion) — Summer 2022
Right-of-Way Pre-Acquisition Activities — Winter 2021 — Summer 2022
Right-of-Way Property Acquisitions — Summer 2022 — Winter 2022/23
Final Design Plans (60% Completion) * — Winter 2022/23
Final Design Plans (90% Completion) — Spring 2023
Right-of-Way Certification — Spring 2023
Final Design Plans & Construction Kick-Off * — Summer 2023
Construction
Spring 2024 – Summer 2027
FINAL DESIGN
The Stockton Diamond project team is progressing on the final design and right of way phases, with construction to begin in June 2024. As a part of the final design phase, some preliminary field activities have already begun on the project, including on-site survey work, additional environmental investigations, and right-of-way activities. Advance utility relocations will begin in fall/winter 2023.